HepBest 25 mg tablet
The medicine HepBest 25 mg is here to help combat serious health complications that arise from the hepatitis B virus.
HepBest (Tenofovir Alafenamide) 25 mg tablet is indicated for the treatment of Chronic Hepatitis B virus infection in adults with compensated liver disease.
Hepatitis B is a virus infection that affecting the liver.
The international brand name of Tenofovir Alafenamide medicine is Vemlidy 25 mg.
The originator company has authorized some Indian brands to manufacture an Indian generic version of Vemlidy (which contains Tenofovir Alafenamide 25) under their own brand name – Mylan Hepbest 25 mg is one of the brand names. It is manufactured by Mylan Pharmaceuticals, which is licensed and WHO, GMP certified company.
As per the estimate by World Health Organization (WHO), worldwide are infected with the hepatitis B virus (HBV). Out of these, 240 million+ have a chronic liver infection that might develop into liver cirrhosis and even liver cancer!
HepBest 25 mg Tablet (Tenofovir Alafenamide)
To fight off such disastrous radicals from our body, this medicine from the brand Mylan Pharmaceuticals works effectively.
This medicine causes the virus to stop multiplying and thus controls the infection.
It makes the immune system works more efficiently by controlling the infection.
Chances of any complication are thus lessened, improving the life quality.
It is consumed with antiretroviral medicines.
Included in a class of antiviral drugs, Hepbest 25 mg tablet is also known as reverse transcriptase inhibitor.
Its component or salt is Tenofovir Alafenamide, an antiviral medicine. It is used to treat chronic (long-term) hepatitis B in adults and kids who are12 years of age and older, weighing 35 kg minimum.
Let's know more about this medicine in the account below.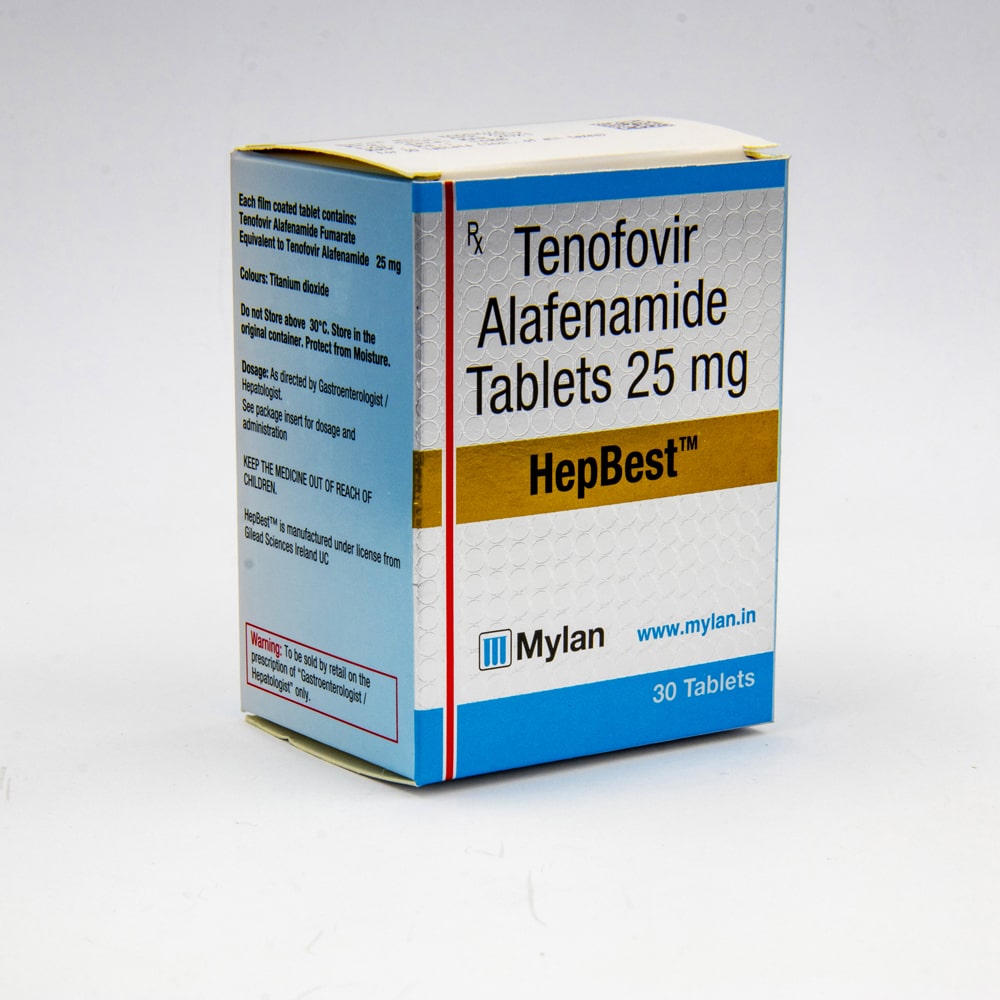 HepBest 25 mg (Generic Vemlidy) Price in India
HepBest 25 mg price is 90 times lower than the international brand. The most affordable pack of medicine on the shelf that you can imagine.
If you want to order HepBest then you can contact us.
At Delightaid Health, we can help you to get this medicine at the lowest possible cost.
Precautions
A prescription drug, Hepbest must be used as per proper medical guidance and advice.
Before its consumption, let your doctor know if you have any skin issues, liver or kidney infection/disease, or heart problems.
You might need to get blood tests regularly during its consumption. By doing so, you can keep a check on your blood count and liver function.
Refrain from drinking alcohol as it puts you at risk of liver damage.
The ongoing treatment with this medicine should be called off if the patient shows signs of lactic acidosis or pronounced hepatotoxicity.
Hepbest 25 mg Side Effects
HepBest 25mg price makes it an affordable medical treatment aid. However, it might lead to certain side effects that are:
Lactic Acidosis / Severe Hepatomegaly with Steatosis
Common side effects include diarrhea, headache, nausea, abdominal pain, flatulence, dizziness, vomiting, fatigue, weakness, cough, back pain, joint pain, and rashes and itching.
Onset or worsening of renal impairment
Acute exacerbation of Hepatitis B
Major Highlights
For pregnant women: Its implications might differ from person to person. However, if unavoidable, Hepbest 25 mg tablet can be consumed with prior consultation with the doctor during pregnancy.
For breast-feeding women: Hepbest 25 mg Mylan is most likely safe to be consumed during lactation. But if inevitable, it should be consumed under strict medical supervision.
For kidney function: The medicine should be carefully used by patients with kidney disease. The dose can be adjusted accordingly by the doctor.
For liver function: Liver patients can probably use this medicine safely. However, doctor's supervision is recommended.
For missed dose: If a dose of the medicine is somehow missed, take it at the earliest. In case, it is soon the time for your next dose, do skip the missed one. Continue with the regular medicine routine.
Driving: Hepbest might cause dizziness or drowsiness in some patients. Thus, activities that need you to stay alert like driving are not advised with the curse of the tablet.
Alcohol: As Hepbest 25 mg tablet might increase drowsiness, alcohol consumption with the tablet is not recommended.
For storage: The medicine should be stored at room temperature and away from direct sunlight. Medicine should be kept away from the reach of children.
Therefore, to improve your health condition if HBV strikes you, consume Hepbest 25 mg tablet as prescribed by your doctor. Stick to the dosage timings and amount as well as precautions. Complete the course for improved health. Moreover, Vemlidy 25mg price in India is easily affordable.